The ORIGINAL GL1200 Charging System Repair Harness™
IMPROVED DESIGN - THE PLATE - DETAILS BELOW!
Does your Honda GL1000/ GL1100/ GL1200 Interstate, Aspencade, LTD, SEI have any of these symptoms?
engine hard to start and backfire when cold
static (ignition) or whine (stator) in AM/FM radio & intercom, multiple stator and/or stator connector replacements
melted or burned terminals on the starter solenoid
engine temperature spikes up when stopped or overheats in parades
oil turn black too soon
exhaust headers yellow, blue or rusted just past the heads
"valve noise"in an engine with hydraulic lifters
voltage regulator case temperature is less than 100°F or over 140° F
exhaust headers over 240-300°F on idle
charging voltage less than 14.5 volts or more than 15 and/or dead battery
ALL these symptoms are caused by a chronic motorcycle problem - bad wiring.

Repair many or all of these problems and prevent severe engine damage with the
Original GL1200 Charging System Harness™.

History of the Harness. In 1989, I bought a 1986 GL1200 Aspencade still in the factory shipping crate for about $6500. Why was it still in the crate and so cheap? It nearly killed me the first week of ownership when the left chrome spark plug cover dumped water in the plug well and a cylinder cut out in a busy intersection. If not for racing experience, the GL would have been run over by a truck. Within a few months, it was running poorly and hard to start, backfiring so bad that the clock in the dash was destroyed. Since an oscilloscope showed severe electrical interference on the charging system, I decided to put my extreme talents in electronics to use.
About 1992, I spent 200+ hours reverse -engineering the electrical system in the GL1200 and proved the above symptoms are usually caused by one thing - defective electrical connectors. In the older bikes like the CB 360-750s, this caused loss of engine performance and a dim headlight. This, plus the fact the charging systems couldn't keep the battery charged put many motorcycles out back to rust out.

The Goldwings were too expensive to suffer that fate!

The GL 1200, like many other motorcycles (at least all the Hondas I've owned from 360 - 1200 have had this problem) run low on charging system voltage which results in weak ignition and poor engine performance and overheating. Corroded and oxidised electrical contacts drop voltage on the way to the ignition coil, as a result, the coil sees about 6 - 9 volts instead of 14.5.

So why not repair the connections? There aren't a few connections- there are over 60 connections including regulator and fuse block that must be repaired, and it's impossible to fix them all unless the entire main harness and all the electrical devices that connect to it are replaced. Just for a round figure, try $4000.00. And what you get to replace it with is already starting to deteriorate from age because its laid in a warehouse for 20 years.

I tried everything possible to repair the old terminals including un-crimping and soldering them to the wire, nothing worked.

I invented the ORIGINAL GL1200 Charging System Repair Harness about 1990 -it solved most of these problems. It was rigorously tested it on two GL1200s here in NW Ohio. Once those tests were passed, the Harness sold itself with basically no advertising (despite attempts by American Honda and GWRRA to suppress it) with the help of the American Goldwing Association (AGWA- excellent group), Fred Rau, Editor of Road Rider Magazine (Motorcycle Consumer News) and Gene at Saber Cycle. Fred Rau of MCN was an electrical engineer who recognized the value of the Harness, and published it in the Road Riders New Products column in March 1993. During this time, I served as National Technical Director and Author for the American Goldwing Association (AGWA), which published technical articles on my electrical, electronic and mechanical work on the Goldwings.


Design improvements, 12/06
THE ORIGINAL HARNESS IS TOTALLY REDESIGNED!!

<>
* Easier to install, cleaner installation * Uses the Original type Fuse Links

* Convenient mounting point for fuses *Stainless Steel Hardware


>

* "No mass made 'electrical connections crimped connectors to fail like
other "harness" designs."

* FOR ANY CYCLE !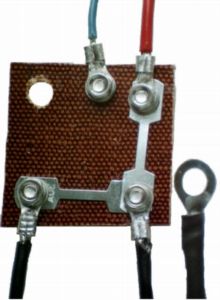 This improved version gives the same performance benefits as before, but now with a cleaner,
neater installation. The original type main fuse link is used for the same fusing characteristics as original design. The ignition coils are protected by a separate fuse to prevent a transient fault from killing the engine. The Plate can be used to connect accessory power without messy connections to the battery.

The waterproof insulating Plate mounts behind the battery in a vibration resistant mounting. A fuse link can be added for
the Voltage Regulator protect it from damage. All connections are soldered or bolted with Stainless Steel hardware.







© 1992-2013 David R. Campbell.
No one has permission to reproduce this information except SABER CYCLE to whom thanks are due
for referring this page. There are no "authorized agents" nor anyone authorized by me to reproduce or
sell The GL1200 Charging System Wiring Harness™.